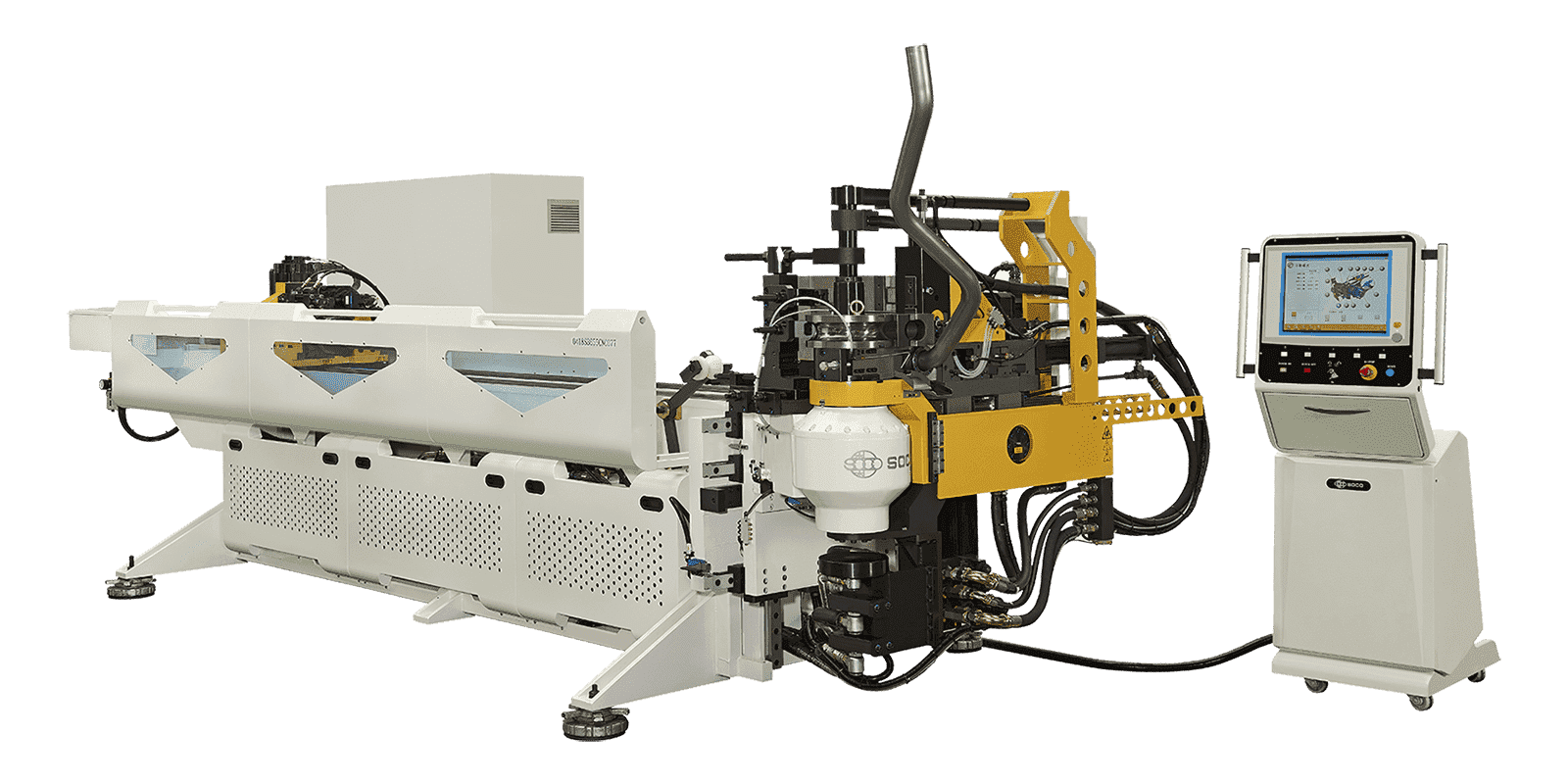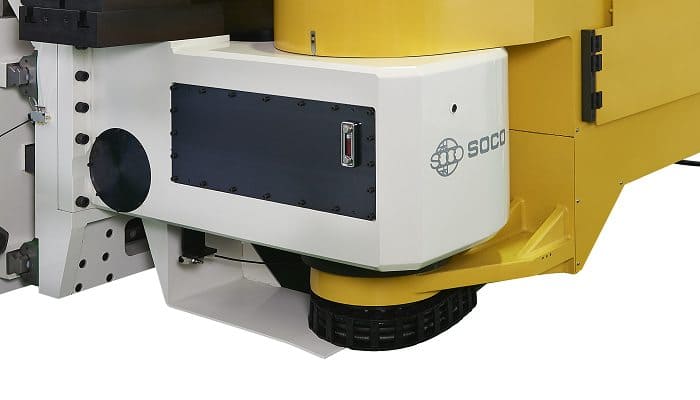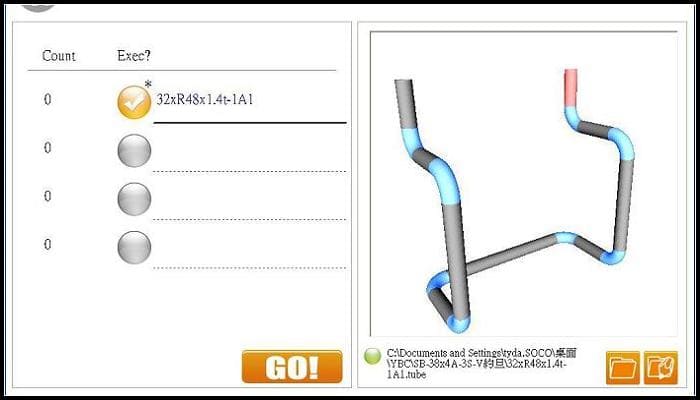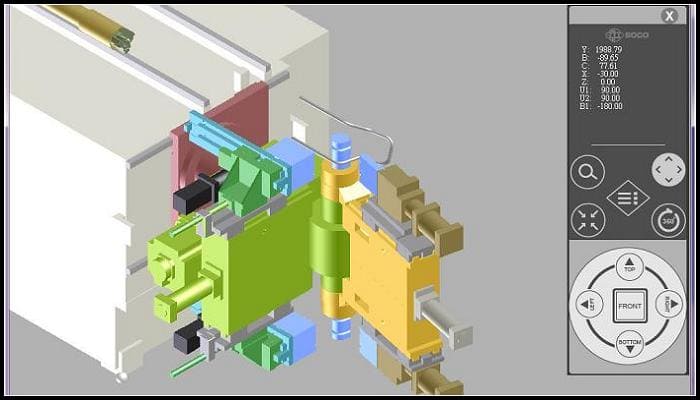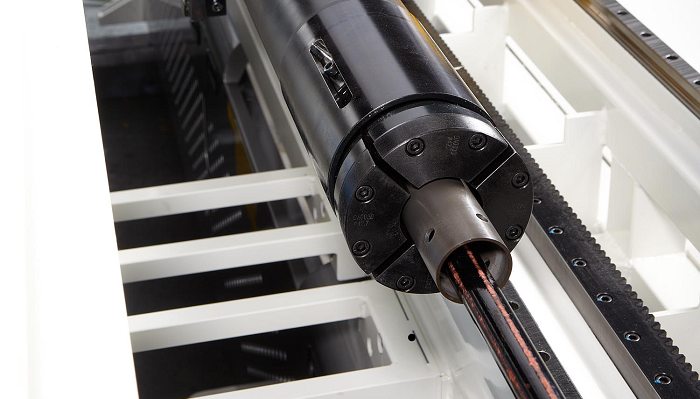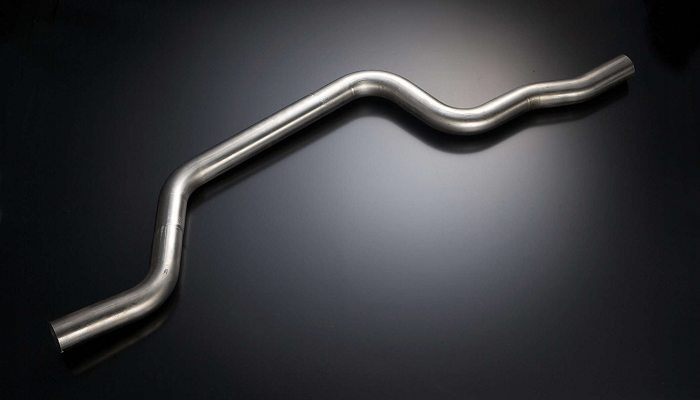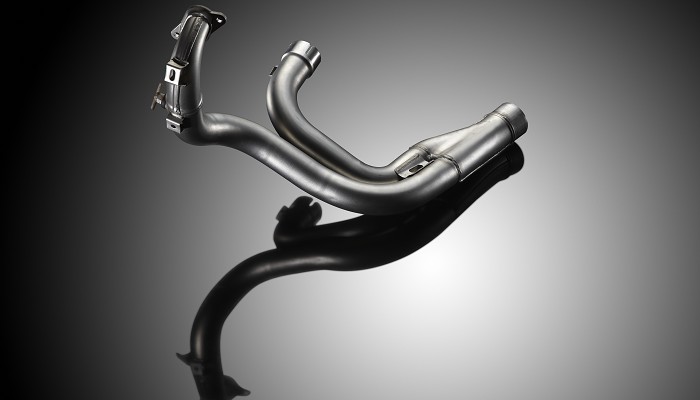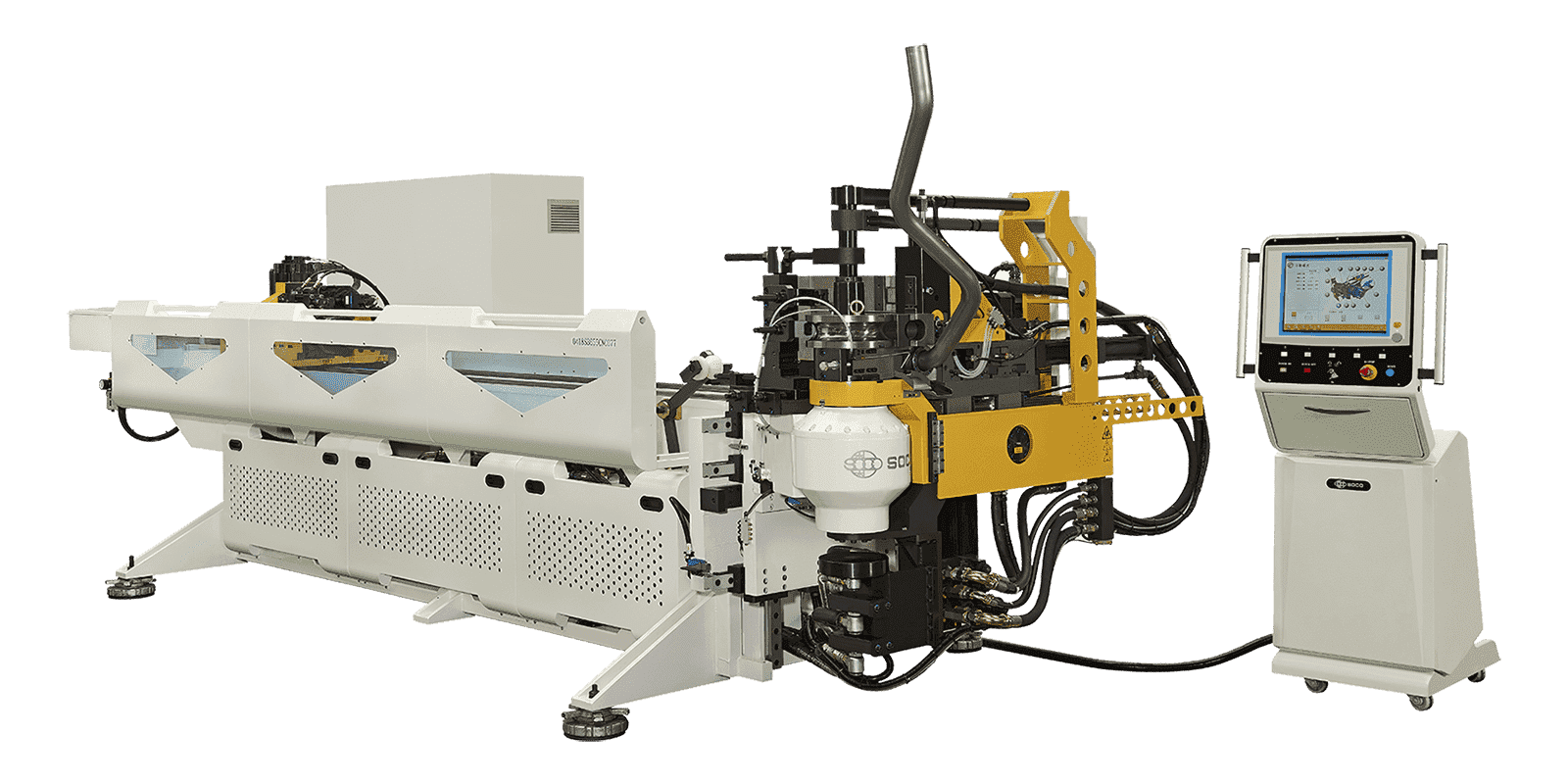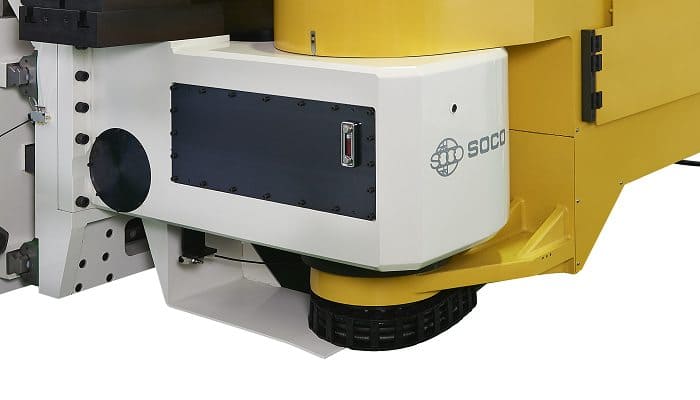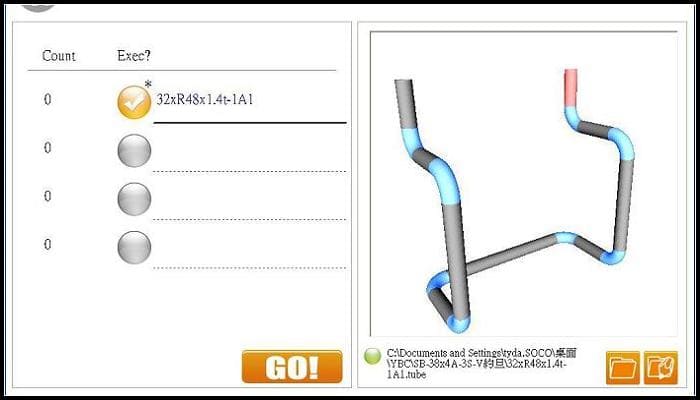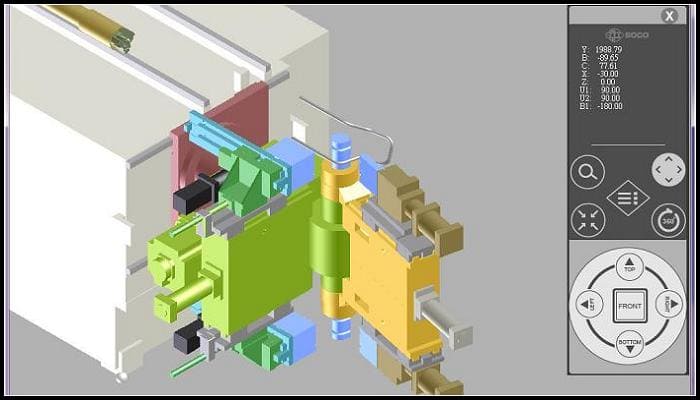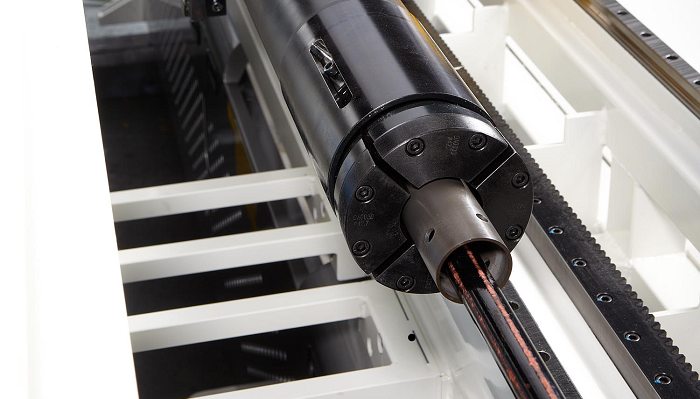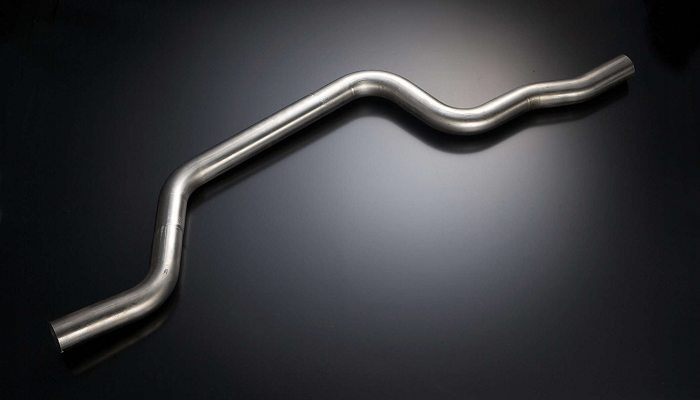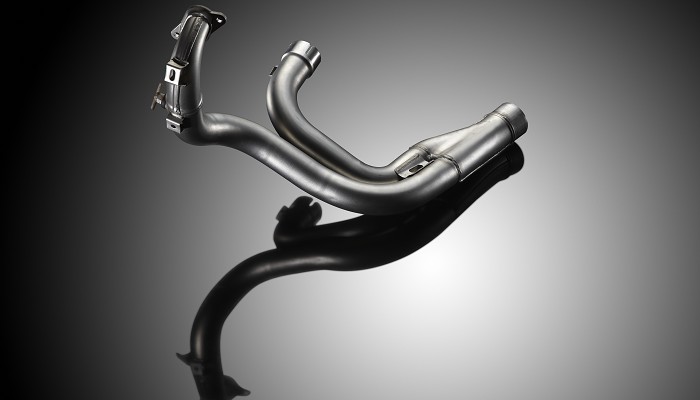 Nine Axis Servo Controlled with special 1D bending booster featured CNC pipe bending machine
SOCO Patented DGT gear system provides strong, fast and highly precise repeatable bends.
Nine(9) Axis Electric Servo Control
-Feeding
-Rotation
-Bending
-Pressure Die Assist
-Horizontal Movement of Bending Head
-Vertical Movement of Bending Head
-Carriage Seat Vertical Movement
-Mandrel Seat Vertical Movement
-Tube Supports Vertical Movement
It minimizes the slimming ratio of the tube while bending with its special 1D Booster feautre.
Ability to bend up to six different radii in one tube with mounted up to six stacks.
Electric Servo controlled axes have separate speed control for each and perfect synchronization of simultaneous movements are provided.
Able to bend either chuck open or clamped for every bend.
Perfect bending by its servo bending and clamping dies
The Movable Machine Control unit provides great ease of use to the operator.
All electrical circuits and components are mounted into specially designed protective cabinets with safety in mind, and the connection for the safety mat has been prepared.
| | | |
| --- | --- | --- |
| Round Tubes - Mild Steel | : | Ø63.5 x 2.5t (CLR=1.5xOD) |
| Round Tubes - Stainless Steel | : | Ø63.5 x 1.5t (CLR = 1.5xOD) |
Number of Servo Controlled Axis : 9
Max. Number of Mounteable Stacks: 6
Max. Bendable Tube Length : 3700 mm(with Mandrel)
Max. Tube Feeding Length : 2600 mm (One Time)
Max. Bending Radius : 127 mm
Radius Difference Between Two Dies: 50 mm (Max.)
Max. Bending Angle : 190 Deg
Bending Speed : 80 Deg / sec
Feeding Speed : 670 mm / sec
Rotation Speed : 200 Deg / sec
Bending Tolerance/Repeatability : +/- 0.05 ~ 0.1 Deg
Feed Tolerance/Repeatability : +/- 0.05 ~ 0.1 mm
Rotation Tolerance/Repeatability : +/- 0.05 ~ 0.1 Deg

1. 1 Piece Mandrel Rod
2. 1 Set Mandrel Extraction System
3. 1 Set Automatic Mandrel Lubrication System
4. 1 Set of Pressure Die Seat
5. 1 Set Wiper Die Seat
6. 1 Piece SOCO i2 CNC Control Special Software
7. 1 Set Industrial Computer (IPC)
8. 1 Set SOCO IRMS Connection Software
9. 1 Set Movable Operator Control Stand
10. 1 User Manual (English)
OPTIONAL ACCESSORIES;
- SOCO Bending Simulation/Collision Detection Program
- SOCO CAD Reader
- SOCO Production Reporting System
- Tube Punch System
- Electric Cabin Cooling System
- IPC Computer Cooling System
- Security Fence System
- Laser Light Barrier